Adventure travel TV show from covers skydiving in Nashville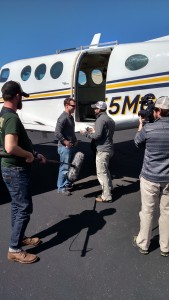 The show, Tennessee Crossroads, covers tourism and outdoor activities all around Tennessee. The visit from the show was arranged by Humphreys County Tourism Consultant, Karin Davis, who is working hard to highlight tourism activities in Humphreys County. Show producer, Taylor Walters, and her amazing crew arrived early and shot all around the DZ before the jump on the first load of the day. The morning had perfect weather and light winds. The host's tandem jump went off without a hitch and left him grasping for words to describe his experience. Music City Skydiving DZ manager, Taylor Smith, was interviewed by the TV show after a jump with the host and several other show members/crew. The show is scheduled to air between November of this year and February of 2017.
The rest of MCS's opening weekend was not quite as smooth with high winds preventing much jumping for most of Saturday, even causing an off site landing for most of one load. All the same, we had many of our regular faces back in the air over Waverly. It looks like it's going to be a great season!
Music City Skydiving is Tennessee skydiving's newest and best facility. Looking for an outdoor bucket list item to check off? MCS is a short ride from Nashville, Clarksville, and Chattanooga.